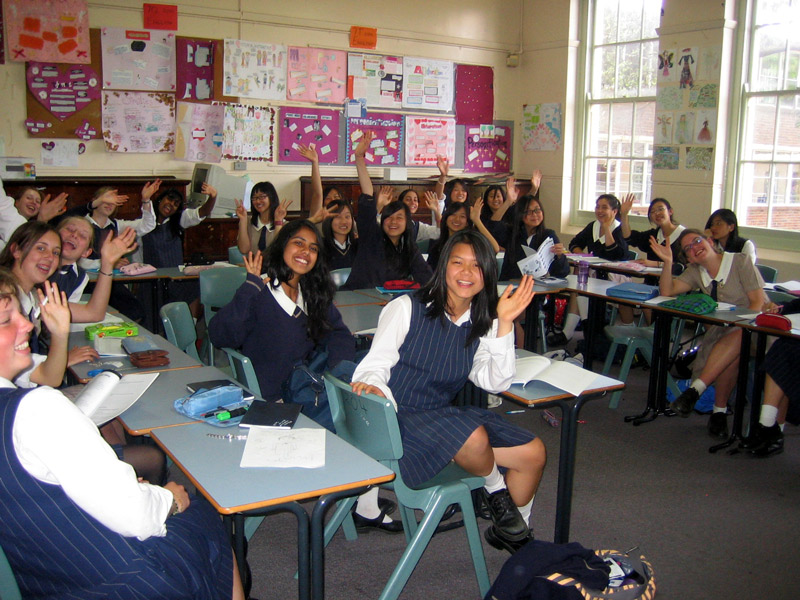 Der folgende Artikel erschien 2006 in der Schülerzeitung der Hornsby-Girls-School Australien, geschrieben von einer Schülerin des GRG.
German Sticky tape rocks  (-;
Have you ever thought that the teachers in Hornsby Girls are strict and 75-minute lessons are long?
Oh, then you've never been to Germany!
To everyone who doesn't know me, my name is Lisi (or Lizzie, how Australians would spell it), I'm from Germany and I've been in Year 10 for the last three months. However, I've not only been in Hornsby Girls, I WAS a Hornsby Girl! I've had an amazing time here and I have to thank so many lovely people for this. But don't be scared. I won't start to say thank you to every single one of them now because I don't want you to get bored as I always do when I'm watching the Oscars and every actor who receives one of them starts to say thank you to everyone who passed their life for about half an hour! And also that's not the whole reason why I'm writing this at the moment. I want to tell you here something about my time here and tell you some 'differences between Australia and Germany'.
As I've already mentioned at the beginning, never think again that your wonderful teachers are strict or mean. In Germany, even if the teachers have only 45 minutes lessons to do so, some of them can just drive you crazy in this short time. The atmosphere in your classes, in contrast, is like in a big family and funny stories from your teachers e.g. about their school time as a "freak" are only a small part of it! (Thanks Ms Motherwell! (-;) Another main difference is probably the uniforms. Many people asked me if I'd prefer wearing Mufti (like in my and every other school in Germany) or If I'd rather prefer wearing a uniform. Mmmmmhhh..?!? A difficult question! A small part in me agrees with your principal, your government and some students who think uniforms are better. Yes, ok, wearing a uniform means that in the morning you can have about one hour more sleep because you don't have to choose which color of top you should wear today, what shoes will fit best and of course which color of eye shadow should you wear?!? But honestly, do I care about the loss of one-hour sleep if I can wear pants in winter and don't have to freeze? I thought that Australian winters would be warm and arrived with a suitcase full of summer clothes. Apparently that was my prejudice because I became sick with a bad cold and I had Monday off school. Finally, after the rainiest July, which Australia had not had in about 4 years and the weather became as hot as I expected it to be. As a result Australians could do what they love to do: Having BBQs. If I would tell one of my friends in Germany e.g. of one Sunday in Australia and what I've eaten there it would look like this;
What did you have for breakfast? – I went to Bobbin Head and had a BBQ! It was very tasty!
Mmh, and what did you have for lunch? –Oh, the BBQ in the morning was very filling. We skipped lunch.
And what did you have for dinner? – I've had something really special this evening: BBQ!!
What would Australians be without BBQ? They have them in Zoos, in National Parks, at camping places and an Australian house without BBQ wouldn't be an Australian house. I, personally, don't have anything against BBQ, especially because your meat tastes different and we don't have BBQs very often in Germany (or in my family!) I love them. But lots of you think that if we think about Australia we're thinking about BBQs. That's not right. Before I came here I didn't. I thought of Uluru, the Great barrier Riff, red and sunny land, Kangaroos & of course Koalas.
However, if someone would ask me now what I'm thinking when I hear the word Australia I would tell him of BBQs, cold winters, hot springs, super beaches, school uniform, an amazing time and of lots and lots of lovely people. Thank you to everyone, especially year 10 but also many other special people, who were part of this fabulous time here in Australia. Thanks so much (I can't say it often enough!). The last three months have been the most exciting ones I've ever had and there's only one thing I 'd love to say to you! Don't forget my e-mail address! I'd love to hear from every single one of you and if you're ever in Germany, visit me!
See you all at the German exchange 2007
I'll never forget you and I'll miss you
See you again
Your German girl LISI